Join ICOM-SA
Museum professionals in South Africa are invited to join the International Council of Museums. Of particular benefit is the network of expertise provided by International Committees in various museum disciplines. Each member is issued with an ICOM card which allows free or reduced entry to member museums around the globe. Members also receive free copies of ICOM News and are kept up to date with regular circulars and e-newsletters. 
If you are interested in joining ICOM-SA please complete the appropriate membership form and return it to this office with proof of payment. Email: icomsamuseums@gmail.com. Invoices can be supplied on request.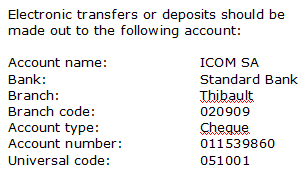 Please provide your name (individual or institutional) as reference!
Membership rates for 2016 are as follows:
INDIVIDUAL

31 Jan

1 Feb

onwards

Individual – regular

R400

R420

Retired

R195

R215

Student

R195

R215

INSTITUTIONAL AS PER OPERATIONAL BUDGET

 

 

Institution Regular 1: R510,000.00 or less

R3800

R4000

Institution Regular 2: R510,001.00 – R1,700,000.00

R4750

R5000

Institution Regular 3: R1,7 million – R17 million

R6850

R7200

Institution Regular 4: R17 million – R85 million

R7800

R8300

Institution Regular 5:R 85 million – R170 million

R8300

R8800

Institution Regular 6: More than R170 million

R14640

R15500
Membership application form for individuals (pdf)
Membership application form for institutions (pdf)